Togetr Platform: Low-code and Model-driven Application Platform as a Service (aPaaS)
By using the Togetr Application development platform, applications can be built quickly and easily. These applications are integrated with your ERP backbone. This means that the length of the life-cycle of your backbone application can be extended. Lead time and development complexity can be reduced by applying the Togetr Technology Platform.
Productive!
Togetr offers a powerful development and modelling environment. The 'model' and the implementation are separated. This means maximal flexibility and reduced development costs. The development process is completely automated. Software development, deployment, and automated testing make the realization of an application simple, fast, and intuitive. This way, the developer can concentrate on the customer problems.
Agile
Togetr's Application Development Framework is designed for short iterative (agile) development projects. Changing requirements of customers make a frequent communication important. Developers will demonstrate working solutions and get feedback based on that.
Integration
Integrations can be built with legacy systems, cloud applications and on-premise databases: Togetr makes system integration simple and robust! Standard connectors are available for the most important ERP systems – like Infor ERP LN/BaanIV, Dynamics NAV, Unit4/Agresso Business World and Exact Globe/Online. Obviously, the connection can be made by applying the relevant 'web services' (SOAP of RESTful) or customer specific Java, or .NET code.
Deployment: Cloud and on-premise
Togetr is designed for the cloud. This means that key design criteria are applied, such as: 'evergreen', multi-tenancy, a 'single-code base' and payments on a monthly basis can be done. The customer determines which deployment option is most applicable to him, for instance, applying an external data center (Amazon AWS, Windows Azure) or a combination of hybrid private cloud. Togetr offers support for all kinds of variations. Updates are done centrally and require no additional investments.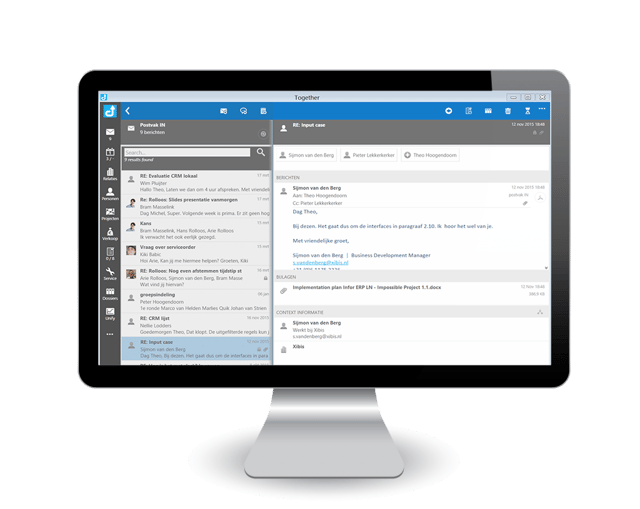 UI Framework
An intuitive User Experience is of critical importance. Beautiful, responsive, and tailored to the needs of the user. The form factor is important: a smartphone requires a different interaction design than the classical laptop. Togetr UI Framework offers the ability to generate an attractive UI, based on the application model defined.
Security
The essence of Togetr Security is twofold. Security is both based on data as well as role-based. Security is important, given all different types of UI interaction patterns as well as cloud or hybrid models. Togetr respects your existing standards and communication protocols. The application of encryption and Microsoft security coding guidelines are important for customer solutions. Multi-Factor Authentication and Device Authentication are effective methods to provide additional security.
Dynamic workflows
Most enterprise applications support workflow to reach a specific goal. The logical workflow consists of activities and relationship between activities. Togetr supports classical workflows as well as smart self-learning flows.
Real-time business intelligence
Actionable data is important for every company. Togetr Unify extracts data from all integrated applications. Users will be guided to the source of the 'challenge' they see in their report. Togetr Unify offers the possibility to intervene directly, based on the data, or to communicate with those involved.